Forget The Pain Of Internet Downtime With RUTXR1!
The year is slowly getting towards the end, but we still got a couple of exciting things coming up before it is over! And today we would like to present one of them. Some of you might have already heard the rumors' about it. Some of you might have felt the need for it. And some of you might be blown away by its features, as this is a device offering a combination like never before!
Teltonika proudly presents the newest addition to its portfolio – RUTXR1! It is their first-ever rack-mountable cellular enterprise router with an SFP port. It also has five Gigabit Ethernet ports, dual-band wi-fi, and a possibility to use two SIM cards for an unbeatable backup. While these features one by one might not sound as impressive, having all of them under one casing opens up so many possibilities.
SEAMLESS AND EASY TO SET-UP ENTERPRISE CONNECTIVITY
CHALLENGE
Each Internet Service Provider focuses on different connectivity options. Some of them are offering only wired connectivity, like Ethernet or fiber, others – only mobile internet connectivity, and some of them have a combination of options to choose from. There is no one right answer to which option is the best one. All of them have their pluses and minuses, so the best choice depends on an individual case. The goal is to reduce internet downtime as much as possible, and we strongly believe that implementing a backup connectivity source is the best way to achieve this.
Whenever starting a new business, there are plenty of challenges involved. Moving into a new building, one cannot know what to expect, which makes it hard to get ready and be up and running smoothly. Connectivity issues are common, and choosing a router with so many options as RUTXR1 offers can help save a lot of headaches and expenses.
SOLUTION
With RUTXR1, it is possible to use wired connection, such as Ethernet or fiber, along with the mobile internet for a backup. This model has five Gigabit Ethernet ports and an SFP module, as well as 4G connectivity with dual SIM. Combining these options allows using three different internet providers and minimize the risk of downtime significantly.
Besides, RUTXR1 is rack-mountable, and it will fit in perfectly into a 19" cabinet or simply anywhere due to its compact size. Additionally to internet backup, RUTXR1 also has dual redundant power supplies, which makes it almost impossible to experience any network-related problems even in case one of the power sources fails. As shown in the topology below, RUTXR1 can be used to connect various devices in the office environment: from laptops and desktop computers to printers and meeting room equipment (like video call tools and tablets). Having multiple Gigabit Ethernet ports, it can offer cable internet to at least five different products. Moreover, it supports more than 100 concurrent Wi-Fi connections at a time, so it can fully serve a small to medium-sized office.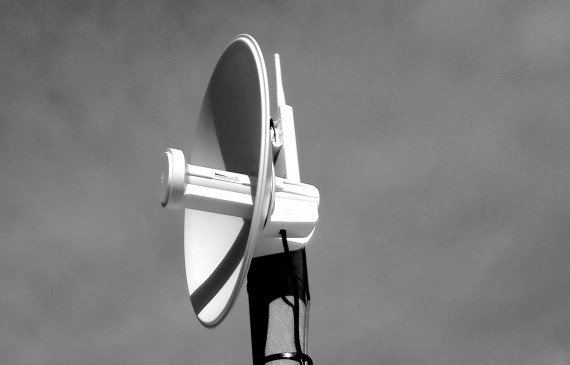 FAST AND UNBREAKABLE CONNECTIVITY FOR PHARMACIES
CHALLENGE
Imagine that a customer comes into a pharmacy store and spends a significant amount of time to pick the right pharmaceutical product. When they attempt to pay with a credit card, the payment terminal is not working. That is a poor buying experience, and the customer likely will never come back to the same store.
In another example, a customer comes to the pharmacy store and has an electronic prescription. In case of lost internet connectivity, the pharmacist cannot reach the database. It is yet again a very unpleasant and inconvenient situation for the customer. All devices using the internet require a stable connection; therefore, having a backup option is a must.
SOLUTION
Recently Teltonika Networks released the first enterprise-grade cellular router – RUTXR1 with five Gigabit Ethernet ports and an SFP port for communication. For solutions including various components, such as Payment terminal, computer, tablet, CCTV camera, the RUTXR1 fits like a glove. This device is capable of functioning as a primary and a secondary router. It supports fiber optic connectivity and has two SIM card slots. Besides, it offers dual redundant power supplies for electricity backup.
Another great feature of RUTXR1 is dual-band wi-fi, meaning it supports 2.4 and 5 GHz frequencies, enabling to provide two different networks for the staff and the customers. As seen in the topology below, RUTXR1 provides wi-fi to the wireless payment terminal and a tablet, while the computer and the camera use the Ethernet connectivity.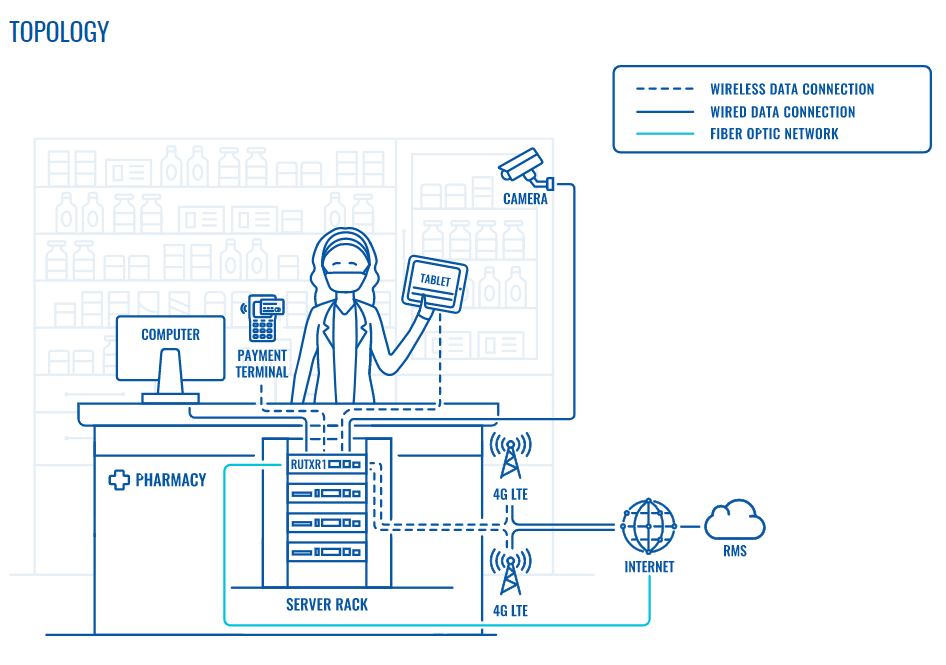 WHY TELTONIKA NETWORKS?
RUTXR1 is a product suitable for a variety of applications and interfaces. It is specially made for office connectivity and can easily adjust to your changing business infrastructure and requirements that come along with these changes. It offers high internet speeds and an unbreakable connection that is hard to beat by other similar products in the segment. One could call it a networking super-product as it fits into almost any business model and can replace additional access points, fiber converters, or modems for backup. So, in essence, it is one product to suffice for all of the business scenarios, which can be speedily deployed and grow together with your establishment.
Enquire now!
Drop us a message in case you are interested!